May 3, 2018
Shaw Family Educator Award 2018
Dear Parents,
As we kick off Teacher Appreciation Week I am excited to share a brand new way to show your appreciation for our wonderful staff. You can nominate any staff member for a brand new award!
The Shaw Family Educator Award is designed to recognize Clarenceville staff members who help to make the district great, with a monetary prize awarded to one deserving winner.
It's really that simple. To nominate a staff member, simply visit the website bit.do/sfea and explain how that staff member helps to make Clarenceville great.
Nominations will be accepted through June 8, but Teacher Appreciation Week seems like a great time to submit your nomination!
The Shaw Family
April 20, 2018
CHS Student Among Winners of Oakland County Art Contest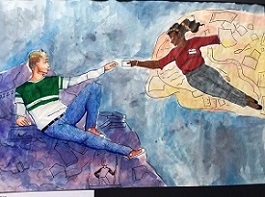 Lavendar Calhoun, 11th grade student – artist at Clarenceville High School, is among the winners of the Oakland County Treasurer's 7th Annual Literacy Arts Contest.  Lavender's mixed media piece titled "The Creation of Adam's Credit Card" will be displayed in the Oakland County Treasurer's Office for one year and included in an online art gallery on the Treasurer's website.
March 28, 2018
2018-19 School of Choice Enrollment
Clarenceville School District will be accepting applications beginning on April 3, and ending on August 29, 2018 at 4:00 p.m. for Unlimited Schools of Choice, Section 105 and 105C, K-12 for first semester the 2018 - 2019 school year.  Applications will be available in the superintendent's office.
Questions regarding schools of choice may be directed to the superintendent's office at 248-919-0250.
January 17, 2018
School Finance Research Collaborative announces findings of comprehensive school funding study
Top business and education experts today revealed the results from a comprehensive statewide study examining school funding in Michigan – an analysis that clearly demonstrates the need to reform Michigan's school funding system. The School Finance Research Collaborative brought together the nation's two leading school funding research firms to develop the report, which provides the most complete data available on school funding and gives policymakers the building blocks to reform the school funding system in Michigan.
November 28, 2017
Michigan Graduated Driver Licensing Parent Checklist
The Michigan Department of State is requesting that Michigan schools assist in distributing the Michigan Graduated Driver Licensing Parent Checklist as a free resource intended to assist parents or legal guardians of teens with understanding and following the steps of Graduated Driver Licensing (GDL).